Flywoo GOKU Versatile F405 1-2S 12A AIO W / build-in ELRS 2.4g RX (MPU6000)
The GOKU Versatile F405 2S 12A AIO is another versatile and highly integrated circuit board in the GOKU Versatile series!  
Built-in build-in ELRS 2.4g RX ,2S  12A ESC, OSD  , 6 serial ports, I2C functionality  and 2XWS2812 LEDs .   Reasonable layout makes it easier for you to build . You only need to choose the motor, frame, camera, propeller , everything else all packed into a compact whoop board.  
Highlights : 
build-in ELRS 2.4g RX 

(Full UART1)

 

, 2S 12A ESC, OSD
Opened 6 serial ports and 12C

 

functionality  

Black box \ Barometer \ CURR
Configured with the powerful F405 BGA MCU
Built-in

 

2XWS2812 LEDs 

 Reasonable layout , easy to build 

Can work with different RX at the same time

MPU6000\ICM42688 Gyroscope
Specifications
Flight Controller
SIZE: 30*30mm
Weight: 4.1g
Hole: 25.5*25.5-3mm
MCU: STM32F405
UARTS: 1,2,3,4,5,6
MOTOR: M1-M4 OUTPUT I2C: SCL/SDA
GYRO:

 

ICM42688 \ MPU6000

Barometer: BMP280
LED:2*WS2812
Flash: 8M
BEC: 5V 2A
Firmware: FLYWOOF405S_AIO
Onboard 4in1 ESC
Built-in 1S/2S 12A BL_S 4in1 ESC
Support Oneshot125, Oneshot42, Multishot,
Dshot150, Dshot300, Dshot600
Input Voltage: 1-2S Lipo
Firmware: BLHELI_S
Firmware: Z_H_30_REV16.7
ELRS2.4G RX: (optional)
ESP8285 MCU
SX1280IMLTRT RF Module
Frequency Range: 2400 MHz to 2500 MHz
Maximum receive refresh rate: 500Hz
Minimum receiver refresh rate: 25Hz Seiral:
UART 1
Firmware: Flywoo EL24P 2400 RX
Version: 2.X.X
Diagram

1、 GOKU Versatile F405 1-2S 12A AIO Wiring Diagram  :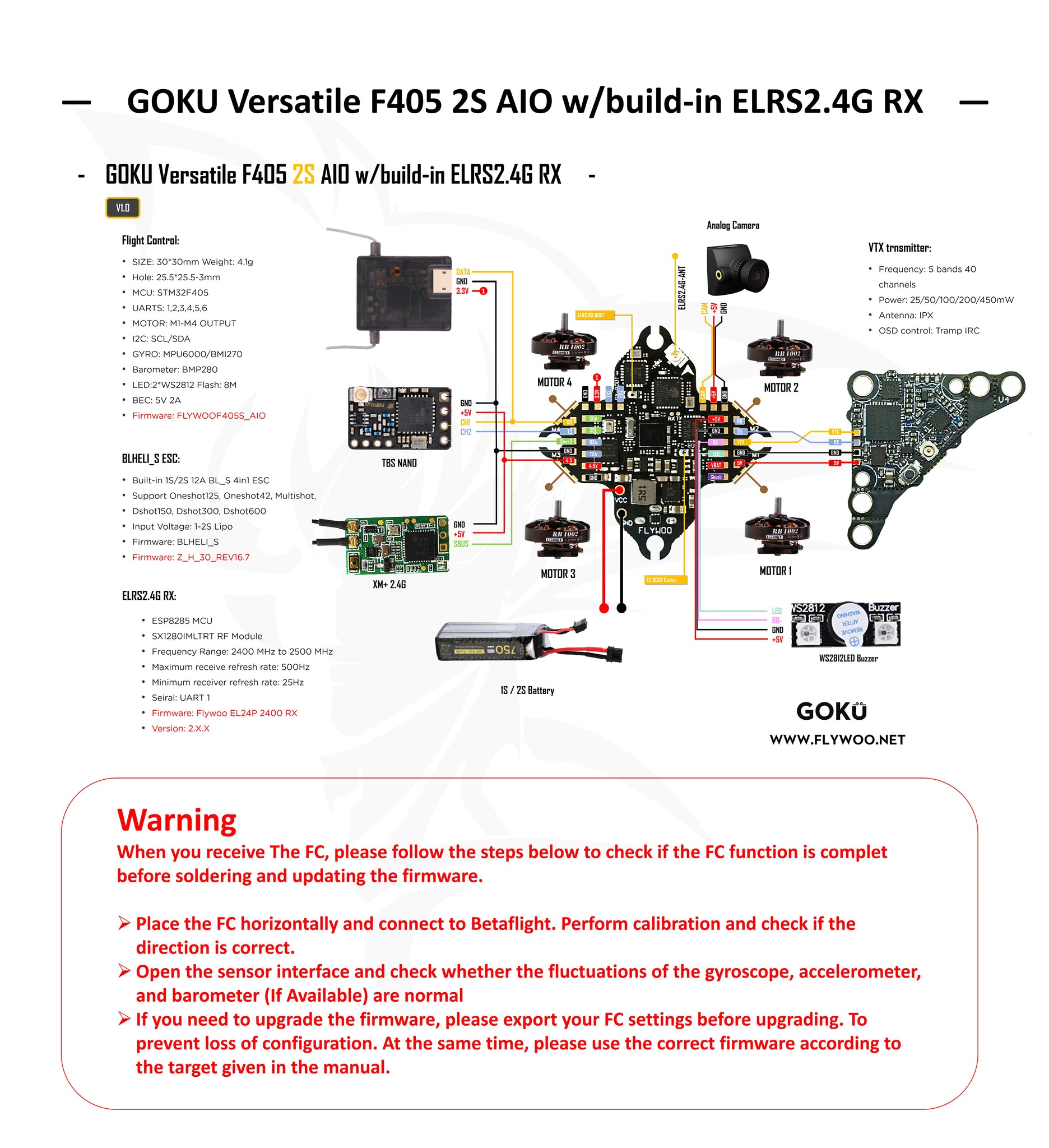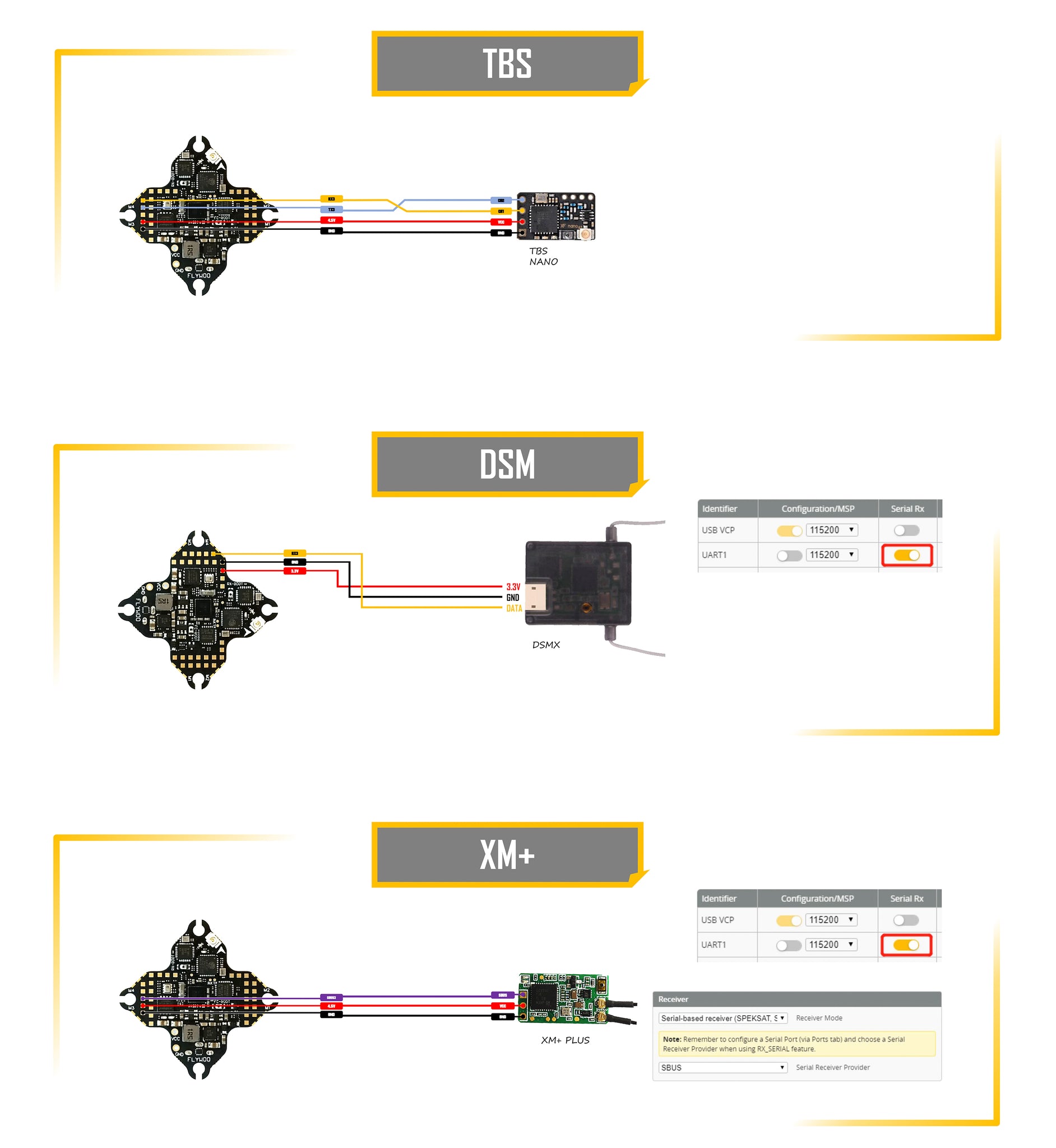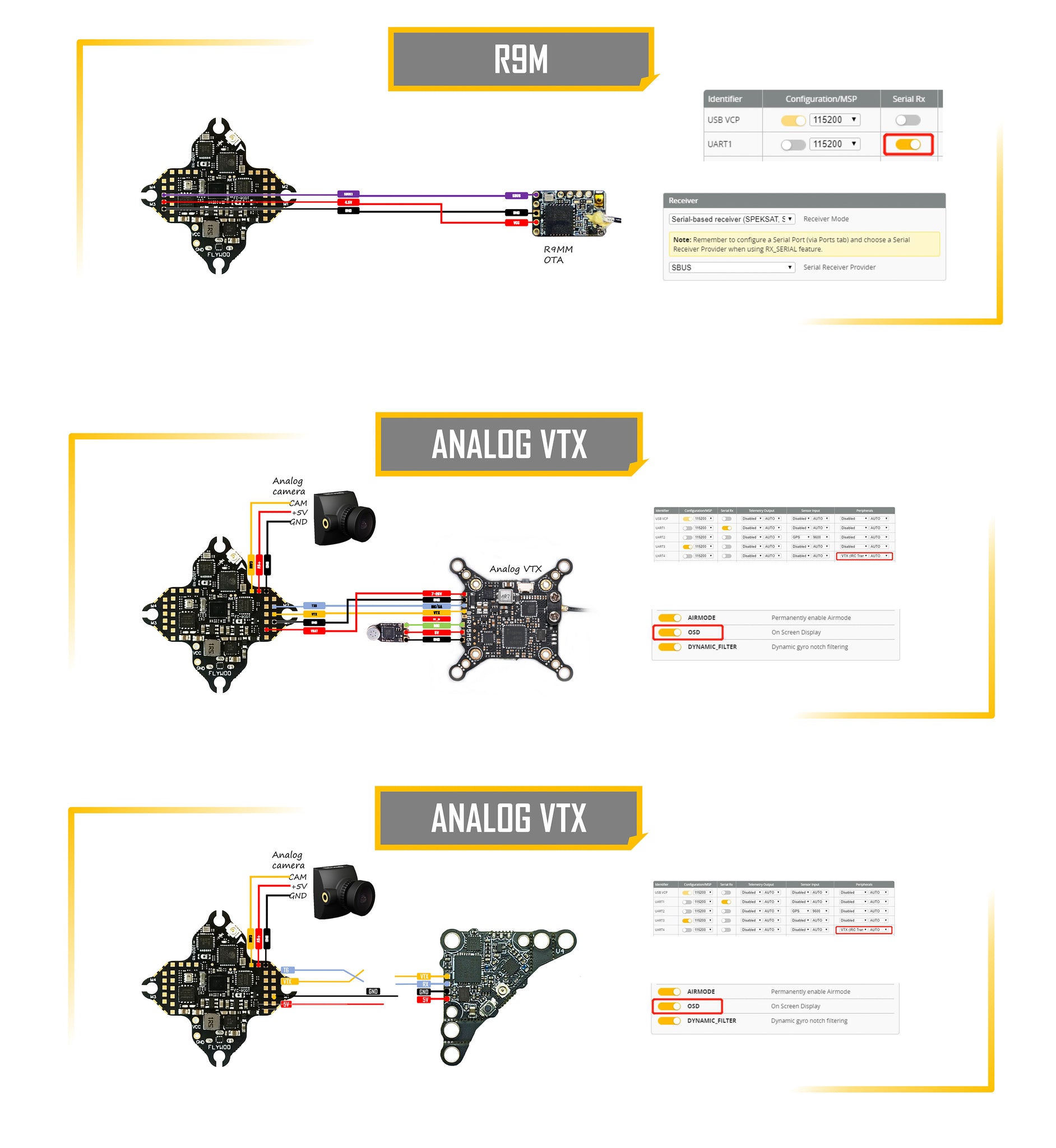 Notice:
When using 1S battery, please set:
FC Motor ldle=12; ESC Startup Power =1