This stack features a powerful F745 flight controller packed with features including a barometer, blackbox, 7 complete hardware serial ports, I2C functionality and WS2812 LEDs on each corner. The accompanying ESC is a 4in1 ESC with 20A of continuous current. This feature packed stack is sure to cover all the bases when it comes to micro long-range builds.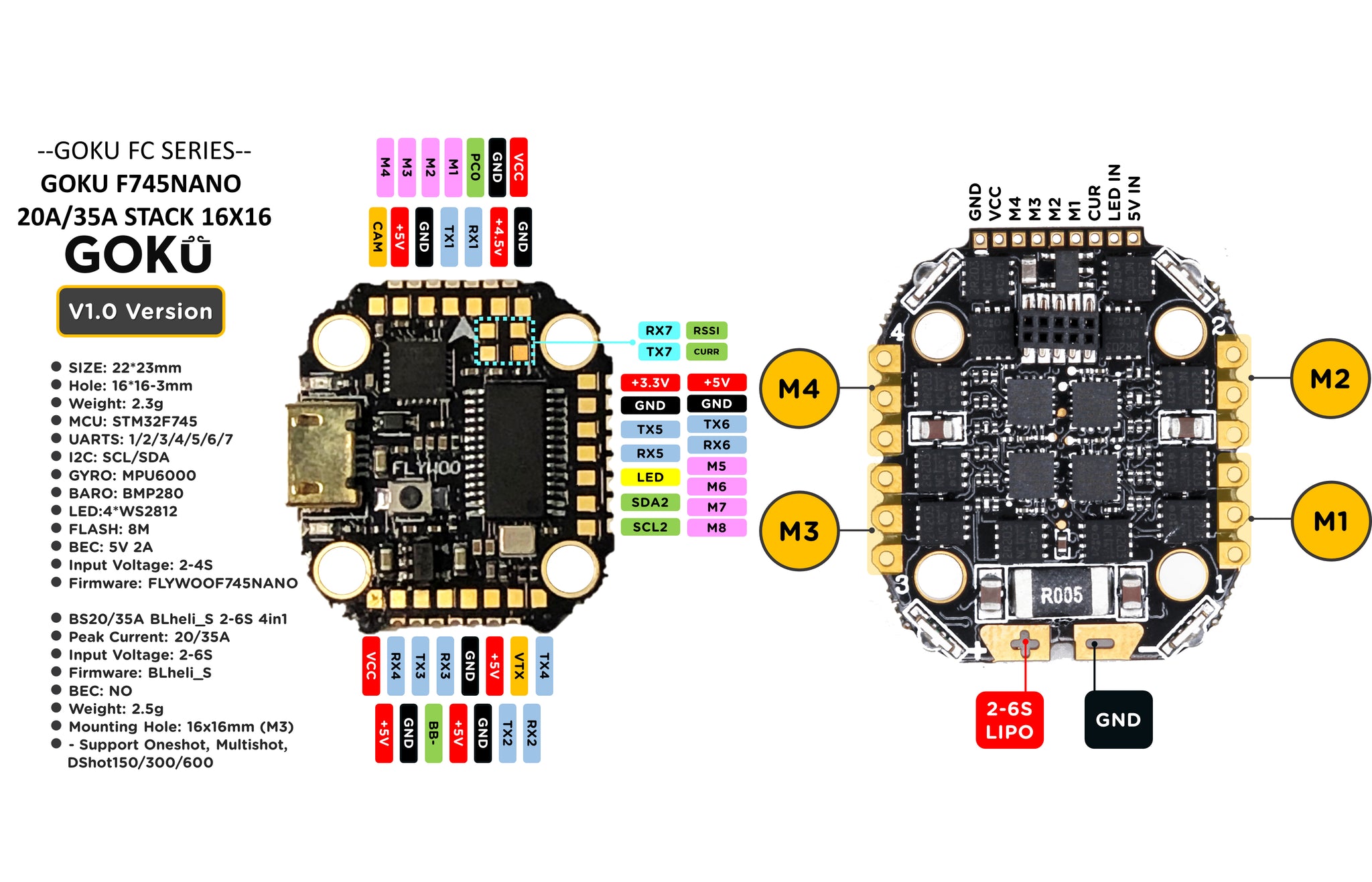 Specifications

GOKU F745 16X16 FC 
SIZE: 22*23mm Weight: 2.3g
Hole: 16*16-3mm
MCU: STM32F745
UARTS: 1/2/3/4/5/6/7
I2C: SCL/SDA
GYRO: MPU6000
BARO: BMP280 BEC: 5V 2A
LED:4*WS2812 FLASH: 8M
Input Voltage: 2-4S
Firmware: FLYWOOF745NANO
BS20A BLheli_S 2-6S 4in1

Weight: 2.5g
Mounting Hole: 16x16mm (M3)
- Support Oneshot, Multishot,  DShot150/300/600
I like to give a review
But it came out broken didn't even work.
Impressed!
They sent me a neck strap! I have an xlite but super cool gift ps gotta take your sweet time soldering as I have lifted the buzzer pad.
Great stack if you need 16x16
I purchased the Flywoo Explorer LRv2 comes prebuilt with flight controller and the 13A version ESC. After accidentally disarming at 150' up (GPS RTH inside 100m), the crash rendered the FC useless. I replaced it with this stack. Tons of features and F7 on a micro board is impressive.