BETAFPV BT2.0-PH2.0 Adapter Cable

SPECIFICATIONS
Item: BT2.0-PH2.0 Adapter Cable 

Length: 55mm (Not included the plug)

Weight: 1.07g(1 pcs)

Wire Type: 22AWG

Input Port: PH2.0 male connector(connect PH2.0 charger)

Output Port: BT2.0 female connector(connect BT2.0 battery)

Note: Blue represents the positive pole (+); White represents the negative pole(-)
BT2.0 Connector
BETAFPV exclusive designed BT2.0 connector has broken through the bottle-neck of PH2.0 connector. BT2.0 connector decreased internal resistance of connector effectively to allow more current that is transferred, which means it supports 9A continuous current(15A burst) offers stronger power and longer flight time on 1S brushless drones while PH2.0 just supports 4.5A You can enjoy more flight time without disturb of low voltage warning through solving the problem of voltage sag. For more instruction, click here to reach.
There is a graph of comparison between BT2.0 connector and PH2.0 connector (solid pins version) in BETAFPV 1S 300mAh battery. The discharge current is 9A in this testing. You could see that it has double time (about 2minutes) with BT2.0 connector.
BT2.0 Series Accessories
We know some pilots might have a question about how to deal with the old PH2.0 1S battery. So we provide some accessories like BT2.0 Power whoop connectors for those people who wanna convert the PH2.0 connector to BT2.0 connector. 
Highly recommend the below products with BT2.0 connectors or cables. BETAFPV will collaborate closely with more brand manufacturers in the future, in order to bring better service and experience to customers.

Other Brand Chargers & Batteries with BT2.0 port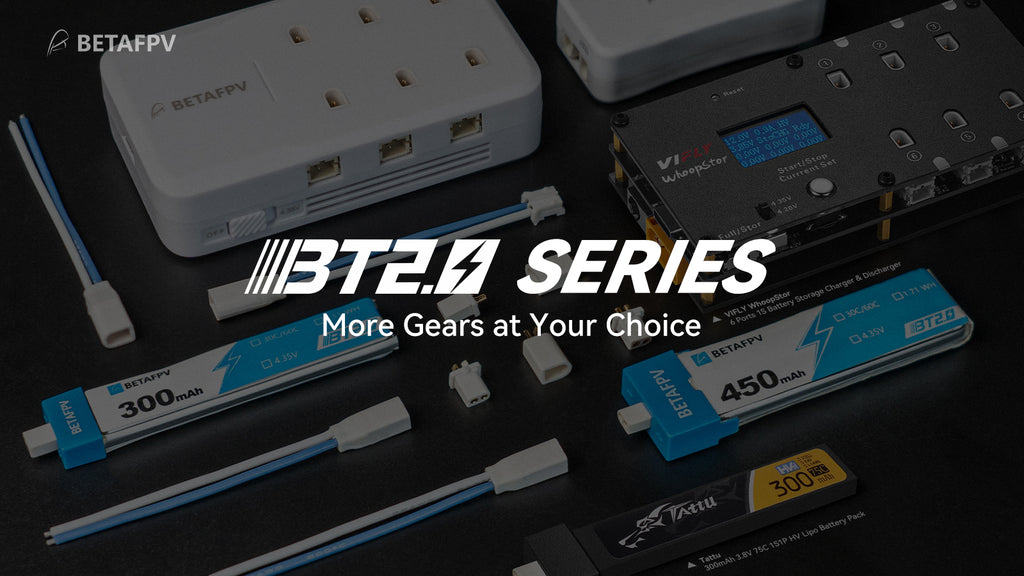 PACKAGE
6 * BT2.0-PH2.0 Adapter Cable