BETAFPV 2S Battery Charger and Voltage Tester BT3.0


BETAFPV offers 2 versions of the 2S Battery Charger and Voltage Tester, each with different ports - BT3.0 and XH2.54 - capable of charging both LiHV 8.7V and LiPo 8.4V batteries. Not only does it have a digital display function, but it also features 2S battery voltage monitoring capabilities. Additionally, it supports PD3.0 fast charging protocol. This compact and portable charger is fully functional and user-friendly, and caters to the charging needs of 2S quadcopter enthusiasts, empowering them to recharge their batteries anytime, anywhere.
Note: LiHV(8.7V) stands for High Voltage Lithium Polymer 2S batteries and LiPo(8.4V) stands for Normal Lithium Polymer Batteries.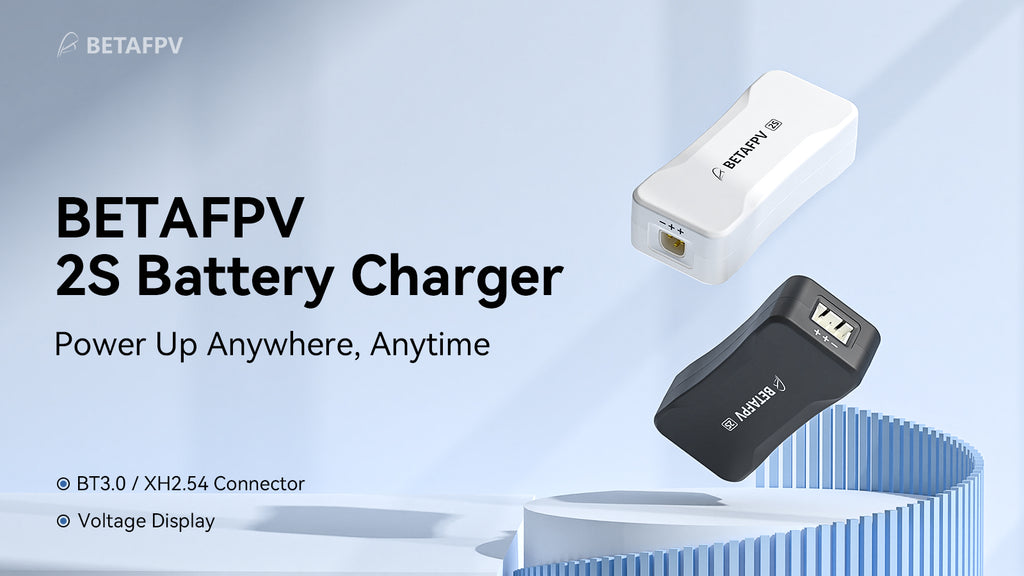 Bullet Point
A compact and portable 2S Battery Charger and Voltage Tester with a digital display, specifically designed for the BT3.0 series of batteries.
It supports the PD3.0 fast charging protocol, offering higher power output and multiple charging options for a faster and safer charging experience with compatible devices.
Equipped with a digital display function and capable of monitoring battery voltage during charging.
With dual variants boasting BT3.0 and XH2.54 ports, this charger offers RC users different connection options.
Featuring a Type C interface instead of a USB interface, providing an even wider selection of charging options
Fulfilling the charging requirements of 2S batteries, this charger is a go-to choice for discerning enthusiasts.
Specifications
Battery Type: BT3.0-LiHV(charging voltage:8.7V) / XH2.54-LiPo(charging voltage:8.4V)

Product Color: White(BT3.0) / Black(XH2.54)

Input Interface: Type-C USB

Input Voltage Range: 5-12V

Input Power: Maximum 15W

Maximum Input Current: 2.5A

Charging Protocol: PD3.0

Weight (per charger): 17.0±1.0g

Dimensions (L×W ×H): 61*25*17mm

Battery Capacity Display:

 

LED Digital Display

 

displays the total voltage and individual cell voltage of the 2S battery.

LED Digital Display

 

and Red LED indicate charging status:
| | | |
| --- | --- | --- |
| LED Digital Display | | Description |
| Circling rectangular display  | | |
| Total voltage | | |
| Rectangle symbol | | |
| No display | | |
Note: When the charger fails to charge or the red light flashes, please check whether the battery is normal or replace the battery for charging.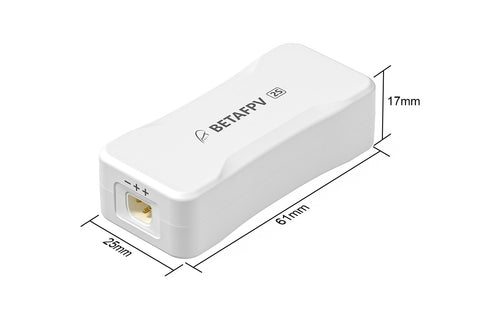 Usage Notes
Please note the polarity markings on the device and do not connect the charger in reverse polarity.
The 2S Battery Charger and Voltage Tester only supports charging for 2S batteries, not 1S batteries.
The charger can only charge one battery at a time and is not designed for charging two or more batteries simultaneously.



BT3.0

This charger is designed to charge 2S LiHV batteries(8.7V) with a BT3.0 battery port. Please note that attempting to charge 2S LiPo batteries(8.4V) may pose a risk of overcharging. To ensure safe and optimal charging, we recommend using it with the BETAFPV BT3.0 450mAh 2S LiHV battery. During the charging process, if the digital display shows a voltage exceeding 8.7V (e.g. 9V), please disconnect the power supply immediately and check if there is any issue with the battery or the charger.

BT3.0 Series Accessories

The BETAFPV BT3.0 series accessories represent a line of products tailored exclusively for 2S whoop drones, comprising three categories of items, connectors, battery, and charger, forming an integrated set of accessories capable of working in perfect harmony. The BT3.0 connectors obviate the need for balance connectors while streamlining the BT3.0 450mAh 2S Battery (2PCS) and enabling greater convenience and higher performance of the 2S drones. When used in conjunction with the 2S Battery Charger and Voltage Tester, a more efficient and stable charging experience can be realized.

We highly recommend combining the following products to upgrade your 2S whoop drone with a set of efficient and user-friendly accessories:

Recommend Parts

Package

Item: 2S Battery Charger and Voltage Tester BT3.0
1 * 2S Battery Charger and Voltage Tester

 BT3.0

1 * 70*50mm Manual in Chinese and English

1 *

 

100*150mm Anti-static Bag
1 * Service Card

Note: The package above is the 2S Battery Charger and Voltage Tester

 | BT3.0.