Holybro Remote ID


Overview

Holybro RemoteID Module is a low-cost, small-size, and light-weight module that broadcasts information about UAVs in flight through WiFi and Bluetooth. It supports both CAN and serial protocols. It is a FCC and CE-approved radio module.
The products run open-source firmware (ArduRemoteID) and provides a so-called standard Remote ID solution, primarily target drone manufacturers & system integrators.

Note: This product is designed for the Standard Remote ID Solution, primarily targeting drone manufacturers and system integrators, as you need to do your own approval process at the FAA (DoC submission) if you are in the USA. For the most accurate and latest information related to this topic, please refer to the official governance website of your country.


If you need customization or have special request, feel free to reach out to us via email.
Specification

Radio module:

Espressif ESP-C3 module
Bluetooth and WiFi 2.4GHz (ERP): + 20 dBm (100 mW)

Firmware:

ArduRemoteID (https://github.com/ArduPilot/ArduRemoteID).
Supports upgrading firmware via the web interface ("OTA")

Supported in PX4 & Ardupilot (More Info)
Protocol: CAN & Serial
Interface:

1x JST GH 4-pin CAN (CAN) port
1x JST GH 6-pin TELEM (UART) port

Antenna Connector type:

On CNC Case: SMA connector
On PCB: IPEX Connector

Range: > 5km detection range*
Power: 5V supplied from TELEM or CAN port
LED lights: Bright RGB status LED
Size:

Without case: 35.3 x 23.5 mm (not including antenna)
With CNC case: 38 x 26.5 x 11.5 mm (not including antenna)

Mount: M2 screws
Operating temperature: -40°C to +85°C
Weight:

PCB only: 4 g
With CNC case & Antenna: 27.5g
Without case & Antenna: 16.5g (Cable 20cm)
* The detection range depends on many factors such as the receiver antenna gain, transmission protocol, weather conditions, flying height, receiver height line of sight etc. With professional receivers a range of 5 km and more is possible.
Guides & Reference Link
Holybro Doc

Ardupilot

PX4
PINMAP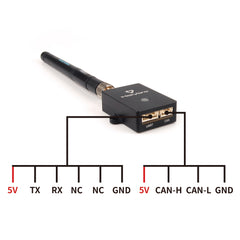 Package Includes:
1x Remote ID

1x Antenna

1x JST GH 6pin 150mm Cable 
1x JST GH 4pin 150mm Cable