BETAFPV BT3.0 450mAh 2S LiHV Battery (2pcs)


The BETAFPV BT3.0 450mAh 2S battery boasts a highly integrated, all-in-one design that eliminates the need for a cumbersome balance head connector. This plug-and-play feature ensures ease of use and convenient installation, thereby streamlining and enhancing the overall design of 2S drones. This not only helps beginners get 2S drones quickly and enjoy the thrill of flying but also meets the exacting standards of professional pilots for drone assembly, allowing them to exert greater control and flexibility in flight.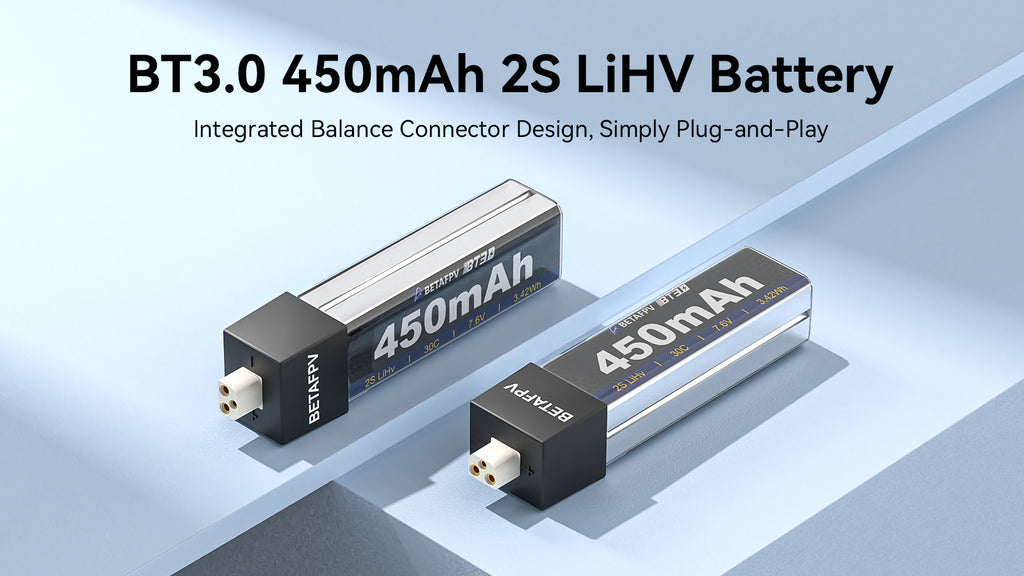 Bullet Point
The elimination of a balance head connector in the 2S battery guarantees effortless charging and installation.
The 2S battery's highly integrated design prevents any exposure of wiring or battery, 

enhancing safety and power stability.

The BT3.0 connectors and minimalist design of this 2S battery enable a streamlined design for the 2S quadcopter.
The below picture is the dimensions of the battery.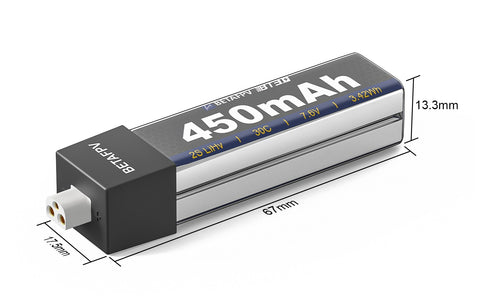 Specification
Battery Connector: BT3.0 

Connector

Battery Capacity: 450mAh
Battery Type: 2S HV Lithium Battery
Rated Voltage: 7.6V
Fully Charged Voltage: 8.7V
Discharge Rate: 30C
Discharge Power: 3.42Wh
Battery Weight: 27±0.5g
Battery Size: 67*17.5*15mm / 67*16*13.3mm(Installation Size)
Color: Black
Surface Treatment: Labeling and Heat Shrink Tubing
Battery Discharge Curve: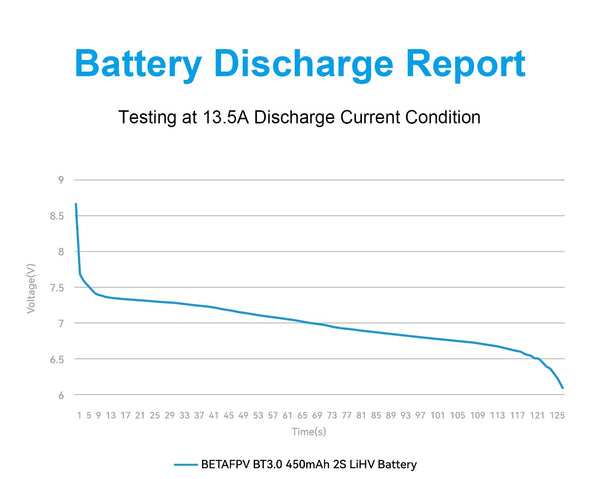 Usage Notes
Battery thickness is between 13.1-13.6mm, suitable for use with the Pavo Pico Brushless Whoop Quadcopter and Cetus X Brushless Quadcopter.
To charge this battery, you will need a BT3.0 2S Battery Charger.
To fully charge this high-voltage battery, a regular voltage charger will not suffice.
Charging this battery to full capacity takes approximately 20 minutes using a BT3.0 2S Battery Charger.
BT3.0 Series Accessories
The BETAFPV BT3.0 series accessories represent a line of products tailored exclusively for 2S whoop drones, comprising three categories of items, connectors, battery, and charger, forming an integrated set of accessories capable of working in perfect harmony. The BT3.0 connectors obviate the need for balance connectors while streamlining the BT3.0 450mAh 2S Battery (2PCS) and enabling greater convenience and higher performance of the 2S drones. When used in conjunction with the 2S Battery Charger, a more efficient and stable charging experience can be realized.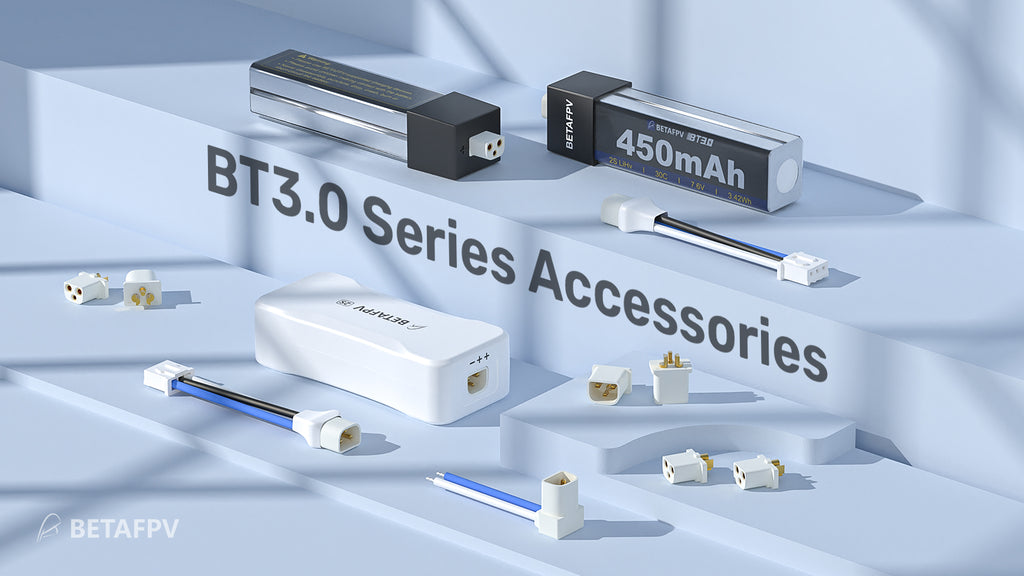 We highly recommend combining the following products to upgrade your 2S whoop drone with a set of efficient and user-friendly accessories:
Recommended Parts
Package
2 * BT3.0 450mAh 2S Battery

2 * Bubble Bag

1 * Battery Box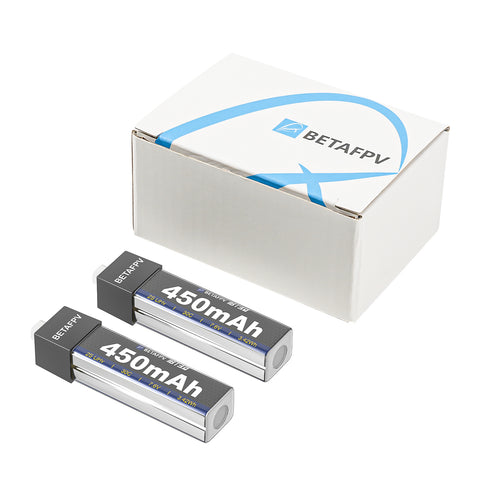 Note: 1. Some countries are not available to ship batteries only without purchasing of whoop drone.  2. The ETA of the battery parcel is slower than the parcel that excludes batteries. Please take a look at our Shipping Information Page.