CUAV NEO 3 Pro GPS Module | GNSS U-BLOX M9N CAN BUS


NEO continues the hardware design of NEO V2, upgrade the GNSS module to Ublox NEO M9N, supports Beidou, Galileo, Glonas and GPS receive at the same time, and the horizontal positioning accuracy is up to 0.7M. Integrated with safety switch, buzzer, RGB light.

Ublox M9N Satellite receiver
New generation satellite receiver Ublox M9N,The actual measurement can reach a maximum accuracy of 0.7m.
Simultaneous reception by the four satellite systems
Supports simultaneous reception of Beidou, Galileo, Glonas, and GPS four satellite systems
High-performance processing unit STM32F412
RM3100 industrial sensor
Using RM3100 industrial grade sensor, has better anti-interference performance
NEO 3 Pro adopts SAW+LNA+SAW triple filter design, effectively avoiding the influence of remote control, data transmission, 4G signal on GPS positioning reception
Open source program, support custom program
Processor
STM32F412
Compass
RM3100
Barometer
MS5611
GNSS receiver
UBLOX NEO M9N
RGB drive
NCP5623C
Buzzer
Passive buzzer
Safety switch
Physical button
GNSS
Beidou、Galileo、 GLONASS、 GPS
GNSS Augmentation System
SBAS:WAAS,EGNOS,MSAS
QZSS:L1s(SAIF)
other:RTCM3.3
Number of concurrent GNSS
4
Frequency band
GPS:L1C/A
GLONASS:L10F
Beidou:B1I
Galileo:E1B/C
Horizontal accuracy
2.0M
Speed accuracy
0.05M/S
Nav. update rate
25Hz(Max)
Acquisition
Cold start:24S
Hot start:2S
Aided start:2s
Number of satellites(MAX)
32+
Sensitivity
Tracking and nav-167dBm
Cold start Hot star-148dBm
Reacquisition -160dBm
Protocol
UAVCAN
Port TYpe
GHR-04V-S
Supported flight controller
CUAV series,
Pixahwk series
Wave filtering
SAW+LNA+SAW
Anti-Electromagnetic/radio frequency interference
EMI+RFI
Upgrade firmware
support
Support Flight control type
Ardupilot/PX4*(PX4 is still working hard to adapt to the clock)
Input voltage
5V
Operating temperature
-10~70℃
Size
60*60*16MM
Weight
33g
NEO 3 Pro level accuracy when the SBAS enhancement system is turned on, the nominal accuracy is 1.5m (default); when the SBAS enhancement system is turned off, it is 2.0m
NEO 3 Pro supports RTCM3.3 injection, but does not support RTCM output; it can achieve pseudorange differential (meter-level positioning) but does not support carrier phase differential (RTK), and it needs a base station that supports RTCM3.3 output.
Ardupilot 4.0.0 and above firmware supports NEO 3 PRO, and PX4 firmware is still in the adaptation stage.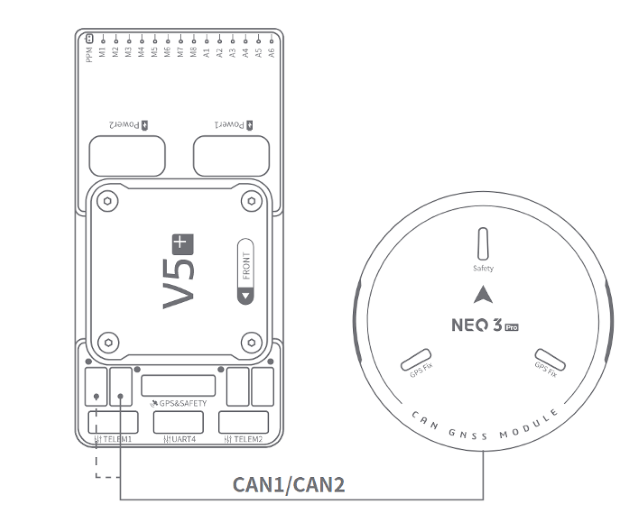 Please connect it to the flight control CAN1 / CAN2 interface (CAN1 is recommended)
The connection of other PIX flight controllers is the same.
Autopilot parameter settings​
You need to set flight control parameters to enable Neo 3 pro; there are different setting methods according to the flight control firmware.
Set the following parameters in all parameter tables of Mission planner and restart after writing
CAN_P1_DRIVER set to 1.
CAN_P2_DRIVER set to 1.
NTF_LED_TYPES set to 231.
GPS_TYPE set to 9.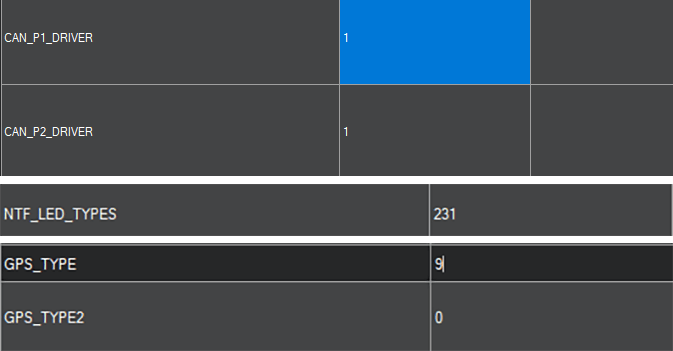 | | |
| --- | --- |
| Weight | 0.5 kg |
| Dimensions | 10 × 10 × 5 cm |