The JHEMCU GHF420AIO 20A FC is a new ultra-light 7.9g brushless AIO flight controller! This FC has a strong performance and supports PWM, Oneshot42, Oneshot125, Multishot, Dshot150, and Dshot300, Dshot600, as well as 6 UARTS.
Specifications
Brand Name: JHEMCU
Model: GHF420AIO-20A
Item Name: F4 OSD Flight Controller Built-in 20A 4in1 ESC
Size: 30×37.5mm
Mounting Hole: 20x20mm
Weight: 7.9g
CPU: STM32F405RGT6
MPU: MPU6000 ( SPI)
Firmware: Betaflight BETAFLIGHTF4.HEX
Built-in Betaflight OSD ( AT7456E)
BEC Output(two): 9V/2A, 5V2.5A
USART: UART1, UART2, UART3, UART6
Receiver;SBUS,IBUS,DSM2,DSMX,PPM,TBS (UART6)
Blackbox: 8MB
Built-in Current Sensor
Support WS2812 LED
Buzzer:5V BZ-
Input Voltage: 2-6S Lipo
ESC Current: 20A
Firmware: BLHELI_S G-H-30.HEX
Support PWM, Oneshot42, Oneshot125, Multishot, Dshot150, and Dshot300, Dshot600
Diagram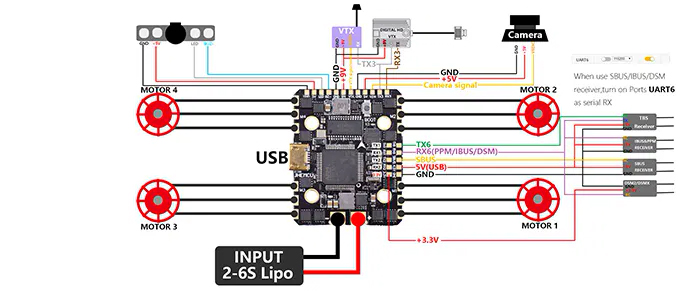 Flashing Settings

Includes
1 x F4 FC AIO 20A ESC Board
2 x Power Cable 18AWG
1 x Plug Connector XT30
4 x Anti-vibration Ball
1 x Electrolytic capacitor 470UF/35V
Awesome!!😍
I'm running this in my 5" (YES A 5 INCH) superlight Diatone GTR569 Air running T-motor 2203.5 1500kv 6s & I'm getting between 15 & 18 minutes flight time using a 850mAh & 1050mAh 6s lipo's. CHNL, Auline, R-Line lipo's all used on multiple flights & its been crashed a few times no issues. I'll add a link to flight footage & pics of the build if "Newbeedrone" say that I can?
Full featured
Surprisingly full featured aio board everything you need for a 2.5 to 3" build would even be good for 4 if you watch the amps for a 250g build. Has enough full uarts for all your needs.
I highly recommend it if it will fit
I got quite a few packs around 40. I haven't had any issues. I'm running 1606 4500 KV motors pretty big considering it's basically a whoop AIO. Crashed hard enough to break a couple arms no damage I did run a bigger cap than came with the AIO.